Hemkund Sahib is one of the most sacred Sikh shrines located about 185 km from Srinagar. The last 20 km of the distance needs to be trekked from Govindghat. The trek from Govindghat to Ghangaria is around 14 km. From Ghangaria, a 4-6 hour trek culminates at the high altitude lake known as Lokpal (after Lord Ram's younger brother  Laxman) or Hemkund (snow lake). This glacial lake is about 2km in circumfrence and has crystal clear waters that reflect the seven Saptashringa peaks (collectively referred to as Hemkund Parvat). The glaciers on Hathi Parvat and Hemkund Parvat feed the lake. The Laxman Ganga (or Hem Ganga) emanates from this lake.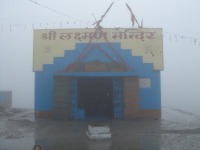 There is a Lakshman Temple and a Sikh Gurudwara (Hemkund Sahib) built on the banks of the lake. The Sikh tradition associates the glacial lake site with Guru Gobind Singh, who is believed to have meditated here in his previous birth. Hindu mythology also associates this location with meditation, reportedly by Rishi Medhasa of the Markandeya Purana and Lakshman.
Lokpal / Hemkund is snow-bound during winters and is accessible only during April to October. It was discovered by a sikh soldier during a cartographic mission in 1930. The soldier, one Havildar Modan Singh helped by a retired granthi of the Indian Army, Sohan Singh, laid the foundation of the Gurudwara in the late 1930s. At the same time they also renovated the old Laxman temple that was already existent. It was only in the early 1950s that the Sikh clergy officially recognized the lake site as the one referred to by the 10th Sikh Guru in the autobiographical Bachitra Natak. The present-day Gurudwara came up in 1968.
Tradition has it that Lokpal was visited primarily by women of the region during three summer festivals. The journey entailed a night halt at a base camp where they would spend the night singing praises of the Lord. At the base camp the women left behind all their clothes & shoes and, at dawn, traversed to Lokpal barefeet clad only in a white cotton dhoti. The base camp is what is now known as Ghangaria, after the ghagara (petticoat) which the pilgrims left behind.