The small town of Gangotri is one of the components of the Char Dham Circuit in the Garhwal Himalayas. It hosts a temple dedicated to Goddess Ganga that was built by a Nepalese General, Amar Singh Thapa, in the early 18th century AD. It's present 20′ high structure of white granite was commissioned by the Raja of Jaipur. The temple remains closed during winter and reopens only in May. In November, the Goddess retreats to Mukhba village, her winter abode ( 12 kms downstream ).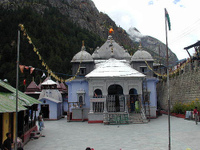 The River Ganges has two main headstreams: Bhagirathi and Alaknanda. The Bhagirathi emerges from Gaumukh, the snout of the Gangotri group of glaciers. From the Ganga temple, Gaumukh can be reached via a 17km long bridle path along the right bank of the Bhagirathi River. The Alaknanda emerges from the Satopanth and Bhagirathi Kharak glaciers. These glaciers originate from the peaks of Chaukhamba and Badrinath range of peaks, which separate them from the Gangotri group of glaciers. After traversing for around 200km each, the two rivers join at Devprayag (34 km short of Srinagar from Rishikesh) to form the 'Ganga'.
Gangotri is located around 245 km from Rishikesh towards Tehri. Some 120 km from Rishikesh, via Chamba and Tehri, is the town of Dharasu which is a junction to Gangotri (122 kms) & Yamunotri (105 kms).