Badrinath is located in the Garhwal hills, on the banks of the Alaknanda River. The town lies between the Nar and Narayana mountain ranges and in the shadow of Nilkantha peak. Badrinath is located 200 km north of Srinagar. This destination is part of the four sacred pilgrimage centres (called char dham; a travel itinerary encompassing all centres is the char dham yatra) and home to one of the holiest Hindu shrines dedicated to Lord Vishnu  who is personified in a meditative posture (Badri Narayan) within the temple.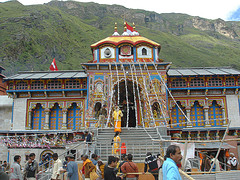 The present Badrinath temple dates back to the 16th century and was built by the Garhwal Kings. Though legend dates the temple to pre-vedic times, the Guru Adi Shakaracharya is believed to have re-established the temple during the 8th century.
Some 15 idols sculpted in black stone adorn various quarters of the temple complex.
Apart from the main temple (Vishal Badri) there are six other smaller badri temples (collectively referred to as sapt badris):
Adi Badri: is one among a chain of 16 small shrines located 17 km, beyond Karnaprayag (confluence of Pindar River and Alaknanda River).
Vridha (or Bridha) Badri: is located in the Animath village 7 km from Joshimath on the Rishikesh–Joshimath-Badrinath road.
Bhavishya Badri: is located in a village called Subhain at a distance of 17 km from Joshimath, beyond Tapovan.
Yogadhyan Badri (or Yoga Badri): is located at Pandukeshwar about 20 km from Joshimath and is as ancient as the main Badrinath temple. It is also the winter abode for Shri Badri Narayan when the main temple of Badrinath becomes inacessible due to snow.
Dhyan Badri: is located in the Urgam valley, close to Kalpeshwar on the banks of River Alaknanda. It can be reached from Helang Chatti by a 12 km trek enroute to Joshimath from Badrinath.
Ardha Badri: is located on the Joshimath-Tapovan road in a remote village and can be approached only on foot.
If the last two badris in the above list are omitted, the remaining five temples constitute the panch badri circuit.